Drainage is essential to the health of lawns and landscaping, especially in Florida. This month, we are exploring the importance of drainage for all lawns and how irrigation professionals work drainage into their plans. Read on to learn about one of the most essential parts of lawn care and maintenance.
Why Do I Need Drainage?
Surface and sub-surface water causes a wide array of issues for home and property owners alike. However, drainage helps fight pest issues, stability issues, problems with your lawn, and potential issues with your home. An expertly installed drainage system siphons water away from weak areas of the property and slowly drains it away to avoid the potential host of issues.
What Does American Irrigation Use?
American Irrigation uses gutter drains, open French drains, surface drains, and French drain systems.
The systems are very similar in some ways, until the last step of installation.
The drainage installation begins with four-inch or six-inch perforated and non-perforated ADS tubing. Tubing is wrapped in a filtering material. The filter wrapped around the pipe is called a "filter sock".
We connect the tubing to multiple components to ensure consistent movement of water through the drainage system. American Irrigation perforates the bottom of those basins and installs a gravel sump to promote drainage. Additionally, the connection points are reinforced with drain tape. This prevents roots and other external forces from accessing the system.
For French drains and open French drains, American Irrigation digs trenches where the drainage system is to be installed. They then line the trench with the filter cloth. There is some excess filter cloth that lines the side. Pipe is placed in the cloth-lined trench and filled with gravel.
To finish a French drain, the workers then fold the excess cloth back over the top of the gravel-filled trenches.
French Drain
After the cloth is leveled, the area is recovered with soil and grass. Once the grass has grown back in, it is almost impossible to see that the area has been dug up.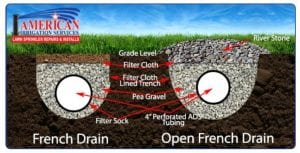 Open French Drain
Instead of soil and grass, open French drains use river stone. In certain areas, such as around the edges of your home, the river stone allows for more efficient drainage as well as a more aesthetic option.
Benefits Of Effective Drainage
Effective drainage installed by qualified professionals brings many benefits to properties.
Improves the quality of the soil.
Drains excess water from gutters away from the walls of your home.
Also diverts excess, unwanted water from other properties nearby.
Reduces chances for a pest infestation by removing their nurseries.
Eliminates overwatering in well-groomed lawns and landscapes.
Prevents "mushy" or "squishy" areas in the lawn.